Rockford East High School
Class Of 1962
ANNOUNCEMENTS
Welcome to the Rockford East High Class of 1962 Website
If this is your first visit to the website, then please click on the "1st Website Visit" link in the menu bar to the left of your screen. It will provide you with helpful information on how to register with and use the site. If you have any website questions and/or suggestions, please contact Bart Carlson.
If you have any questions about the 55th Reunion, please contact Kathy Murawski (Lonergan), Chair.
Award Ceremony at Eash High School 2018
In late May Judy Mott and Kathy Lonergan attended an Award Ceremony at East High School. The $500 Craig Stalcup Scholarship award was earned by Jalen Griffin, a graduation senior.
In the picture are Jalen Griffin, Ken Franzen, Kathy Murawski Lonergan, Jack Ramsey, Jerry Stalcup, Judy Olson Mott, Dave Schultz and Carol Rapp Markley who attended the Celebration. Our 1962 East High Class donated funds to extend the Scholarship through 2022.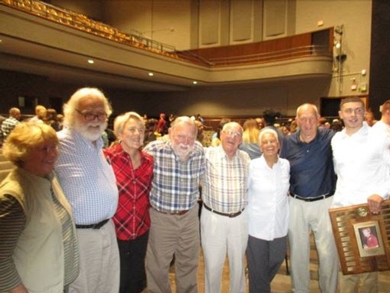 55th Reunion Photo Gallery
To check out photos from our 55th Reunion, please click on the link on the left column labeled "55th Photo Gallery"
55th Reunion Committee
Also, please join me in extending a special thanks to all the volunteers working on the 55th Reunion Committee including:
Kathy Murawski (Lonergan), Chair
Bart Carlson
Elizabeth Gibbs (Skibinski)
Mary Jean Gouker (Franzen)
Harriet Liljegren (Basel)
Donna Livingston (Schafman)
Julie Nordby (Robinson)
JoAnn Norman (Allen)
Judy Olson (Mott)